Seeds of Hope - Memorial Gardens
Building a Legacy One Brick at a Time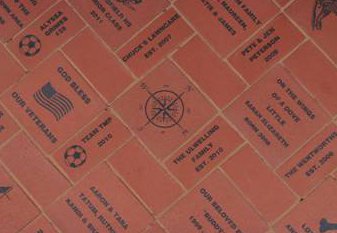 Seeds of Hope - Memorial Gardens and That's My Brick!® have joined forces to raise money for our project! As we prepare to take the final steps to realizing this goal, you can help to make it happen with your donation and we will install your customized personalized brick.
This site automatically keeps track of our orders. If you choose to pay by check, please contact us as soon as possible to submit your donation.
There are Four Memorial Gardens that are going to be made, after the gardens are completed, we will be making a Brick walkway...this will be an ongoing project!
These gardens will be at the entrance to the Town of Thompson Park…in Memory of Lori Rubinstein & Allyson Strong.
The Memorial Bricks are for anyone who wishes to add a loved one's name, a family name, or just a graphic decoration such as an angel, star, etc...or add a saying or quote.

How to Order
Just follow the simple step by step process below to place your donation. Be sure you are happy with your brick design as they will pretty much look like the image on the computer.
You can order at anytime but all orders will be processed in the spring of each year.

Payment Options:
Pay by check or money order.
Follow the on-screen directions during checkout.
If you have any questions, please contact Terry VanderMeulen at 845-794-2635 or email theresav272@gmail.com