Memorial Trail
Building a Legacy One Brick at a Time
The Village of Eleva will soon have its own walking, running, biking and snowshoe trail around the Broiler Festival grounds adjacent to Eleva Lake.  The trail will be a mile-long recycled blacktop surface that will wind its way through a wooded area along the lake and Big Creek and will come out into a beautiful open area overlooking the village and surrounding countryside.  There will be benches along its course and plenty of gorgeous views as well.  This trail is possible due to funds raised through Zayvier's Chicken Chase, a 5K and 10K race that is held each year during the Eleva Broiler Festival, a favorite time of year for Zayvier Barnes, who died in a tragic car accident in 2012 at the tender age of 9.  
Now you too can honor the memory of a loved one or show your love and appreciation for someone special in your life by donating a personalized brick.  Bricks can be engraved with their name, a message, the memory of a loved one, your name or your business name!  All bricks will be installed in the trail and will be a lasting way to show your heartfelt appreciation.
How to Order:
Just follow the simple step-by-step process below to place your order. Be sure you are happy with your brick design as it will look very similar to the image on your computer when completed.
Brick with Personalized Graphic
**Add a Custom or Business Logo to your Brick**
Get your image APPROVED by That's My Brick!® before placing your order.
Please email info@thatsmybrick.com with:
1) Signed and completed copy of the Letter of Agreement attachment below
2) Black & White, High Resolution file of your Custom/Business Logo
3) Please notate that it is for "zayvierschase"
4) That's My Brick will notify you if the logo has been approved,
invoice for $15 Custom Graphic Fee, and it's availability to place your order
*Approval Process can take up to 1 week
Click Here for Letter of Agreement

** The Letter of Agreement is for legal Trademark purposes and is required before a custom image will be approved **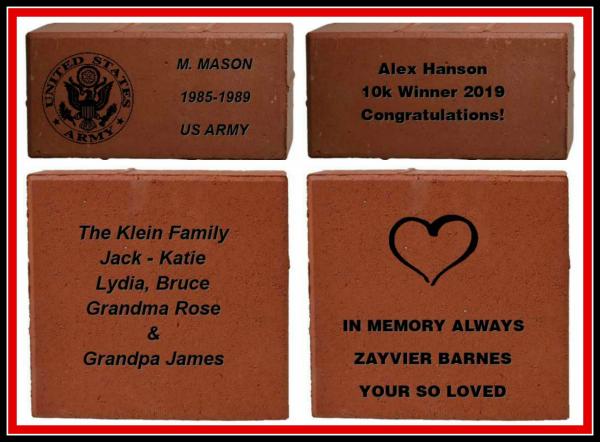 Payment Options:
Pay online with a major credit card (VISA/MC/AMEX/DISC).
Pay by check or money order.
Follow the on-screen directions during checkout.
If you have any questions, please contact
Linda Wenaas at ZayviersChickenChase@gmail.com or 715-797-7096