Lakeside United Methodist Church
Honorary/Memorial Patio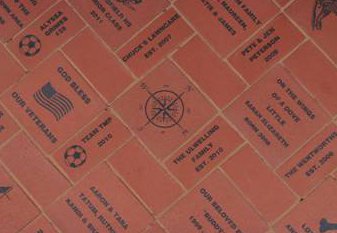 Lakeside UMC and That's My Brick!® have joined forces to raise money for our project! As we prepare to break ground and take the final steps to realizing this goal, you can help to make it happen with your donation and we will install your customized personalized brick.
This site automatically keeps track of our orders. If you choose to pay by check, please contact us as soon as possible to submit your donation.
Lakeside Methodist is proud to announce the addition of a Prayer Patio which is to commemorate those who have been touched, in some way, by Cancer.  This addition will be installed in the very near future as an Eagle Scout project organized by Jared Marunowski, a member of LUMC.  This patio will be located near the entrance to the Church.  It will consist of a short walkway adjoining an oval Patio.  The walkway and Patio will be constructed of 4X8 clay bricks, and have two benches.  The initial personalized bricks will be installed on the short walkway; thereafter personalized bricks will replace the bricks on the patio.  This program will continue at LUMC, however early brick purchases are needed now to help fund Jared's Eagle Project.    

How to Order
Just follow the simple step by step process below to place your donation. Be sure you are happy with your brick design as they will pretty much look like the image on the computer.
Payment Options:
Pay online with a major credit card (VISA/MC/AMEX/DISC).
Pay by check or money order.
Follow the on-screen directions during checkout.
If you have any questions, please contact Brian Harding at 281-225-7022