50th Anniversary Beautifican Project
Help create an attractive pedestrian crosswalk/speedhump from the parking lot to the school!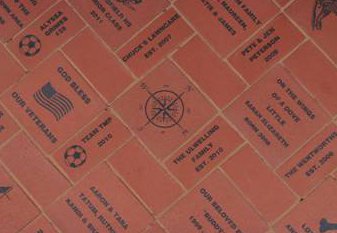 To commemorate the 50th Anniversary of the current St. Peter's School Building, which was built and opened in September of 1964, we would like to offer you a chance to be a permanent part of our school! By donating a brick, you can help to beautify and create a safe and defined crosswalk (which will also serve as a speed hump) from the parking lot to the school.
This will be an ongoing fundraiser, and with your support, our goal is to have not just one crosswalk, but a second one constructed in the near future.
Whether you would like to choose a brick to recognize a specific event, loved one, or memorialize a family member who passed, please consider donating one!
Construction of the first crosswalk will commence during the summer months and will be ready for our St. Peter's Family to utilize on the first day of the new and upcoming school year.
How to Order:
Just follow the simple step-by-step process below to place your order. Be sure you are happy with your brick design as it will look very similar to the image on your computer when completed.
Payment Options:
Pay by check or money order.
Follow the on-screen directions during checkout.
If you have any questions, please contact Michael Clavin at 845-471-6600 x200