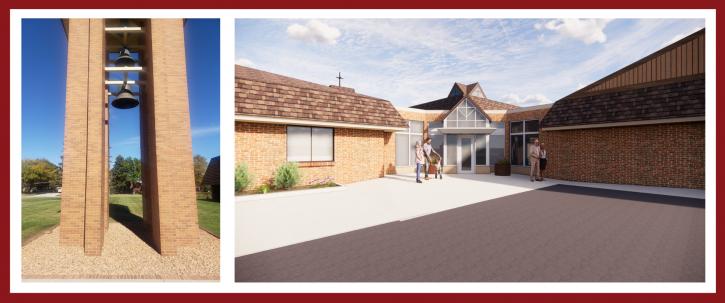 St. Charles Parish Renewal
Brick Paver Project
Building a Welcoming Culture One Brick at a Time
St. Charles Borromeo Catholic Church and That's My Brick!® have joined forces to raise money for our project! As we continue our journey to complete the parish renewal project, you can help to make it happen with your donation and we will install your customized personalized brick. The St. Charles Borromeo Parish Renewal Project is a campaign to not only renovate, but also rejuvenate the community spirit within the Parish.  The rectory, built in 1967, has seen a complete remodel.  A fellowship room for intimate gatherings and social events has been added, along with a gathering entrance space.   Other improvements, such as heating and cooling, electrical, furnishings, west entrance, sanctuary, and more will undoubtedly showcase a warm and inviting parish.  
We are excited to offer you an opportunity to be a part of this exciting rejuvenation as part of the brick paver project.  Personalize your brick with your name, a message, or in memory of a loved one.  All bricks will be installed under the west bell tower.  Help us continue to build a welcoming parish one brick at a time!
This site automatically keeps track of our orders. If you choose to pay by check, please contact us as soon as possible to submit your donation.
How to Order:
Just follow the simple step-by-step process below to place your order. Be sure you are happy with your brick design as it will look very similar to the image on your computer when completed.
Brick with Personalized Graphic
**Add a Custom or Business Logo to your Brick**
Get your image APPROVED by That's My Brick!® before placing your order.
Please email info@thatsmybrick.com with:
1) Signed and completed copy of the Letter of Agreement attachment below
2) Black & White, High Resolution file of your Custom/Business Logo
3) Please notate that it is for "stcharlesoakes"
4) That's My Brick will notify you if the logo has been approved
5) Pay $15.00 Setup Fee,
6) Graphic will be made available on the St. Charles Parish donor website for your order to be placed.
*Approval Process can take up to 2 weeks
Click Here for Letter of Agreement

** The Letter of Agreement is for legal Trademark purposes and is required before a custom image will be approved **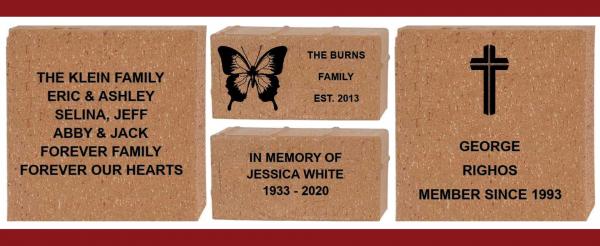 Payment Options:
Pay online with a major credit card (VISA/MC/AMEX/DISC).
Pay by check or money order.
Follow the on-screen directions during checkout.
If you have any questions, please contact Toni Brummund or Curt Halmrast
at Toni (701) 367-0038 -- Curt (701) 710-0186  stcharlesrenovation@gmail.com