Service Dogs by Warren Retrievers
Paving the Way, One Paw at a Time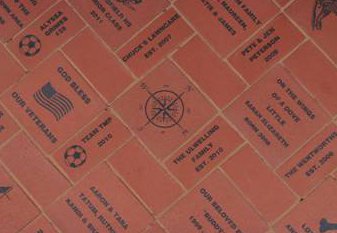 Service Dogs by Warren Retrievers (SDWR) is an ever-growing non-profit organization specializing in service dogs for invisible diseases such as diabetes, autism and seizures.
The SDWR facilities are located in Madison, Virginia. While the organization continues to grow, there is a tremendous need to maintain and expand the facilities.
The first project is the updating of kennels for the service dogs in training. The goal is to sell 300 memory bricks to build a pathway in front of the kennels for the trainers to use while teaching these service dogs the many commands that will be used by the families they will be placed with.
Selling 300 bricks would create a three foot by thirty three foot walkway which, will located right in front of the new kennels. As these brick are used to create this path, help make them personal with a message! This is a way for our supporters to not only show their support of SDWR but to show their love for their dog.
Just think of that family companion that has meant so much to you, or maybe a grandparent's appreciation for how a service dog has made a difference in their grandchild's life or you just love the mission of SDWR and want to support it – the messages are endless. This brick walkway is not only for the clients of SDWR but for anyone who would love to have their animal honored, memorialized or commemorated.
While not everyone has a Service Dog, all dogs "serve" us by providing love and companionship and many people have been blessed to be the recipient of the love of a dog. 

By purchasing a brick for the SDWR Pathway, you can honor that special animal in your life, while helping our organization to continue to help those with invisible disabilities. As these bricks form a permanent path it will be an ever-lasting reminder to not only the trainers and staff but to you as well.
Once the pathway is built, you will receive a picture of the completed project, a picture of where your brick is located so that you may be able to frame it and display in our own home. Each day you will know that you have helped not only our organization but have given hope to another family of getting a service dog from Service Dogs by Warren Retrievers.  Thank you for supporting SDWR!
You will be invited when we hold the ribbon cutting ceremony because seeing the work we do and the help you have given has kept our mission moving forward to serve others!
How to Order
Just follow the simple step-by-step process below to place your order. Be sure you are happy with your brick design as it will look very similar to the image on your computer when completed.
*Ordering Deadline - September 30, 2014*

Payment Options:
Pay online with a major credit card (VISA/MC/AMEX/DISC).
Follow the on-screen directions during checkout.
If you have any questions, please contact Service Dogs by Warren Retrievers at 540-543-2307