Legacy Garden
Leaving our legacy, one brick at a time.
The Rustburg High School Class of 1993 Alumni Association is pleased to offer RHS alumni an opportunity to become a permanent part of our alma mater.
We are honored to launch a fundraising campaign to develop a Legacy Garden at Rustburg High School.  The Legacy Garden project is centered around the idea that as RHS has left its mark on us, we each may leave our mark on its grounds.  We may remember and reflect on the classmates and days gone by, through the purchase and placement of an honorary or memorial brick in this garden.
The Legacy Garden will feature an area where pre-purchased/engraved brick pavers will be installed, along with three memorial benches, and attractive landscaping.  It will be located adjacent to the Library entrance, facing Red House Road.
This project will be open to alumni of all classes, as well as the general public.
Let YOUR legacy be preserved for the future at Rustburg High School. 
How to Order:
Just follow the simple step-by-step process below to place your order. Be sure you are happy with your brick design as it will look very similar to the image on your computer when completed.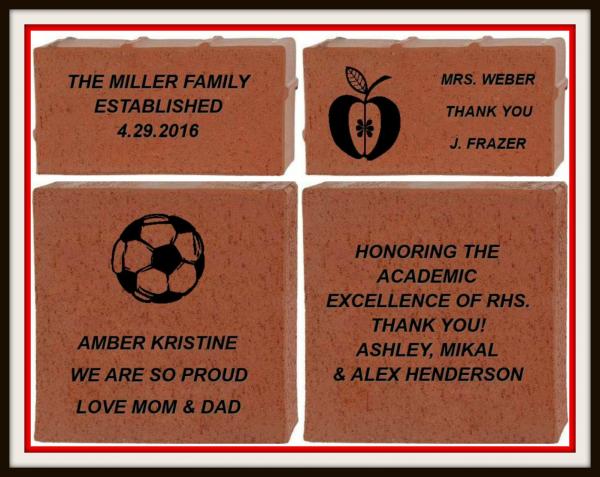 Payment Options:
Pay by check, money order, or PayPal.
Follow the on-screen directions during checkout.
If you have any questions or to pay Via PayPal, please contact
Elizabeth Worth at rustburghighschoolclassof93@gmail.com