The Raptor Nest Brick Patio
Paving the way to musical excellence.
The new Raptor Nest Band Tower & Patio will be at the heart of the Ravenwood Marching Band's practice space. As we transform this area into a beautiful and iconic spot on the Ravenwood High School campus, we invite individuals, organizations, and businesses to help us pave the way by supporting our donor recognition brick program. As part of this exciting project, your brick will be placed within the soon to be constructed, fully bricked Raptor Nest Patio located at the base of the Ravenwood Band Raptor Nest Band Tower. It will leave your mark at Ravenwood High School forever.
This unique opportunity to sponsor a brick is for a limited time. Raptor Nest Patio bricks are the perfect legacy, memorial, or gift for Ravenwood High School students, teachers, alumni, fans, friends, or community members. Choose the precise message you desire including name, date, custom message, favorite memory, life motto, or inspirational quote to be etched on your brick and into the landscape of the Raptor Nest Patio. Symbols and clip art can also be added.
Money raised through the Raptor Nest Patio project will be used to fund the Ravenwood Band Raptor Nest Band Tower, an important instructional tool for the Ravenwood Marching Band, so please donate a brick today, leave a lasting legacy, and support the Ravenwood Band.
With the help of our supportive community, we hope to make the Raptor Nest & Patio an iconic spot on the Ravenwood High School campus for years to come!
This site automatically keeps track of our orders. If you choose to pay by check, please contact us as soon as possible to submit your donation.
How to Order:
Just follow the simple step-by-step process below to place your order. Be sure you are happy with your brick design as it will look very similar to the image on your computer when completed.
Order Deadline: November 30, 2023
**Add a Custom or Business Logo to your Brick**
Get your image APPROVED by That's My Brick!® before placing your order.
Please email capitalprojects@ravenwoodband.com with:
1) Signed and completed copy of the Letter of Agreement attachment below
2) Black & White, High Resolution file of your Custom/Business Logo
3) Please notate that it is for "ravenwoodband"
4) That's My Brick will notify you if the logo has been approvedand it's availability to place your order 
*Approval Process can take up to 1 week
Click Here for Letter of Agreement
** The Letter of Agreement is for legal Trademark purposes and is required before a custom image will be approved **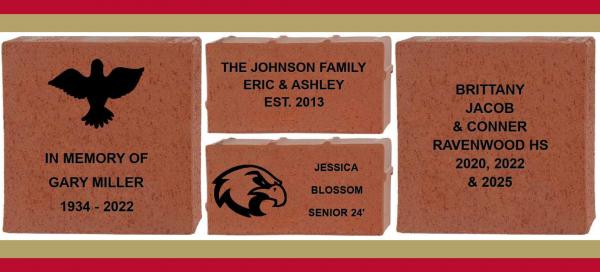 Payment Options:
Pay online with a major credit card (VISA/MC/AMEX/DISC).
Pay by check or money order.
Follow the on-screen directions during checkout.
If you have any questions, please contact
Kristen Corn at capitalprojects@ravenwoodband.com