Paxton Grand Old Flag Project
Don't miss your opportunity to become a part of history by purchasing a personalized brick for the Grand Old Flag Project. These bricks will line the walkway to and the area surrounding a special flagpole behind the Paxton Jr. High/High School.  All proceeds from these bricks will go towards the purchase of a flagpole that will measure 150 feet, and will be the tallest structure in the city of Paxton.  The flag hanging from the pole will measure 30 by 60 feet. Drivers running up and down 57 will be able to see this flag from miles away, and it will serve as the patriotic landmark for Paxton, the students of the school, and for all of East Central Illinois.
How to Order:
Just follow the simple step-by-step process below to place your order. Be sure you are happy with your brick design as it will look very similar to the image on your computer when completed.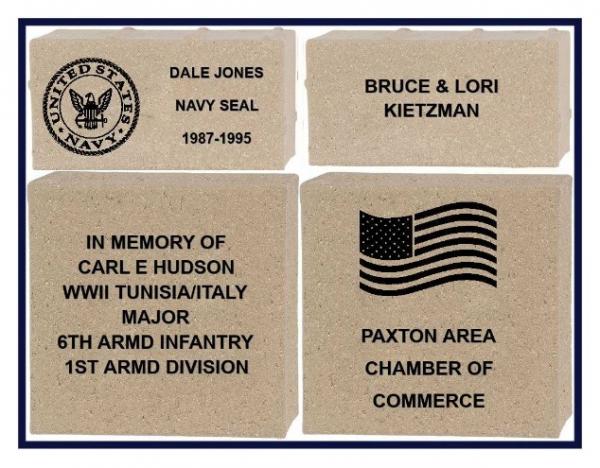 **Add a Custom Business Logo to your Brick**
Get your image APPROVED by That's My Brick!® before placing your order.
Please email info@thatsmybrick.com with:
1) Signed and completed copy of the Letter of Agreement attachment below
2) Black & White, High Resolution file of your Custom/Business Logo
3) Please notate that it is for "paxtonflag"
4) That's My Brick will notify you if the logo has been approved
and it's availability to place your order
*Approval Process can take up to 1 week
Click Here for Letter of Agreement

** The Letter of Agreement is for legal Trademark purposes and is required before a custom image will be approved **
Available on 4x8 & 8x8 Business w/ Custom Logo options only
Payment Options:
Pay online with a major credit card (VISA/MC/AMEX/DISC).
Pay by check or money order.
Follow the on-screen directions during checkout.
If you have any questions, please contact:
Denny Kingren at 217-202-6398
or
Ahlden Harms at 217-202-9637