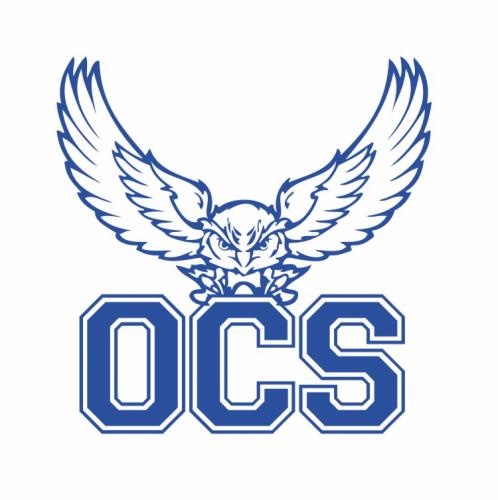 Odyssey Charter School and The PTO
Brick Fundraiser
Nurturing A Life Long Love of Learning
Be a part of the legacy of Odyssey Charter School by purchasing an engraved brick. Honor your connection with Odyssey Charter School and donate today. 
The School will be expanding the Personalized Brick Fundraiser Project so you can continue to invest in an engraved brick that will be at the foundation of a flagpole.  Odyssey Charter School will be memorializing flag poles in front of each building.  The flag poles will display the National and Greek Flags. Donor personalized brick pavers will be set in place in unique configurations in front of each building.
Students, teachers, parents, grandparents, families, businesses, vendors, school associated organizations, and friends of OCS have the opportunity to own a brick. - "ensuring" names and memories remain on campus. You can order multiple placements, one for each of your children, student graduate, grandchildren, parents, or to acknowledge a sports team, the Green Team, Honor Society, Student Council, a game club, OCS Family business, Odyssey purveyors and investors. There are several stock logos that can add to your brick to enhance messaging. In addition we will offer to upload your custom submitted logos, upon approval. 
This site automatically keeps track of orders. If you choose to pay by check, please contact us Project Coordinator as soon as possible to submit your donation.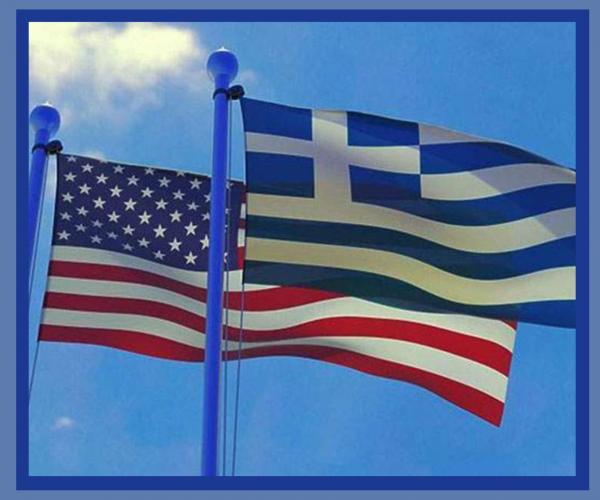 How to Order:
Just follow the simple step-by-step process below to place your order.
Bricks are organized by school building placement.
4x8 Brick - $125 Olympic Sponsorship Array - $550
8x8 Brick - $225 Large Olympic Sponsorship - $800 
  Corporate Sponsorship - Larger Arrays available
Bench Donation Opportunities
Contact Project Coordinator for all customizations
ocsptoinc@gmail.com
Voice message 302.516.8000 Ext. 365 for special attention

*Multiple bricks can be added to your order shopping cart for larger order purchases,
simply personalize each brick one at a time.
Brick with Personalized Graphic
**Add a Custom or Business Logo to your Brick**
Stock logo are free custom logos may incur a charge.
Get your custom image APPROVED before placing your order.
Please email Project Coordinator with:
1) Signed and completed copy of the Letter of Agreement attachment below
2) Black & White, High Resolution file of your Custom/Business Logo
3) Please notate that it is for "odyssey pto custom graphic"
4) That's My Brick will notify you if the logo has been approved and it's availability to place your order *Approval Process can take up to 1 week
Click Here for Letter of Agreement
** The Letter of Agreement is for legal Trademark purposes and is required before a custom image will be approved **
Array
Setup requires a special file.
Please email Poject Coordinator as follows:
Subject Line:  "odyssey pto array setup"
Body:  1) Which Level - Brick Array: (1 by 3) 8x8 Brick Array, (2 by 2) 8x8 Large Brick Array, or (Custom Size) 8x8 Array
2)     Text wanted
3)     Standard Graphic/Custom Graphic and position on array (top, bottom, left, right)
**Adding a Custom or Business Logo to your Array**
See Personalized Graphic steps above
Replica Bricks
Order an exact replica of the installation brick ordered, except it has rubber feet to easily display on a desk or mantel. - 4x8 standard brick for $50 and 8x8 large brick for $75 to commemorate your support to OCS.
The project will continue in phases, with our next phase Intermediate School schedule for early Spring 2022. We can also take orders for Phase 1 (Middle School) for those who would still like to participate.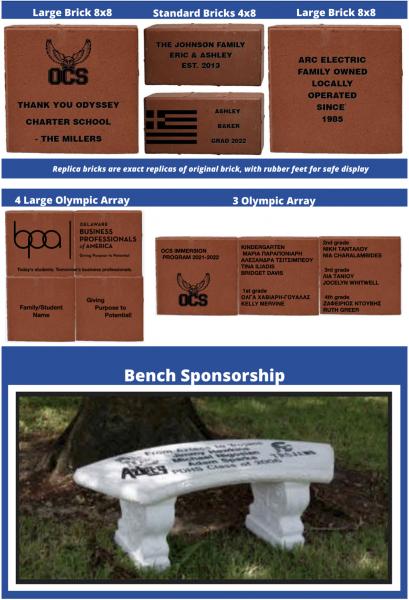 Payment Options:
Pay online with a major credit card using PayPal (VISA/MC/AMEX/DISC).
Pay by check or money order.
Follow the on-screen directions during checkout.
If you have any questions or would like to discuss an array, please contact
Project Coordinator at ocsptoinc@gmail.com
Or Voice message 302.516.8000 Ext. 365 for creative sponsorship opportunities
The proceeds of this fundraiser will benefit the flagpole placement, flags,
and installation of the personalized brick pavers, any remaining proceeds will be used to further support initiatives in school branding.