The Oaks Tiny Tigers Preschool
Cradle to the Cross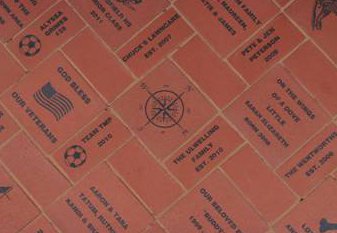 The Oaks Tiny Tigers Preschool and That's My Brick!® have joined forces to raise money for our project! As we prepare to break ground and take the final steps to realizing this goal, you can help to make it happen with your donation and we will install your customized personalized brick.
The Oaks Tiny Tigers Preschool has moved to a new facility and needs your help with getting started!
Our new location is a blessing and perfectly primed for preschool success. Although there is a building, there are updates and repairs that need to be done before it can be licensed through The Texas Department of Family and Protective Services. Your donations will go towards an alarm system, fire sprinkler system, additional bathroom plumbing, flooring, and a fence around the perimeter of the playground. All Donations are tax deductible and very much appreciated. 100% of all donations will be for the funding of all preschool needs.
How to Order
Just follow the simple step by step process below to place your donation. Be sure you are happy with your brick design as they will pretty much look like the image on the computer.
Payment Options:
Pay by Check, Money Order, or Credit Card.
Follow the on-screen directions during checkout.
If you have any questions, please contact Stephanie Perez at 209-338-7931 Cell or oakstinytigers@yahoo.com