Garrett Laker Baseball Brick Program
Brick by brick, we'll honor the past and brighten the future!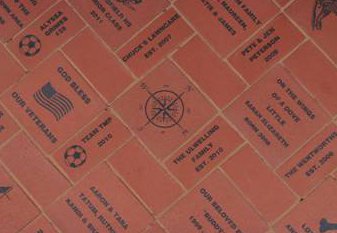 Garrett Laker Baseball and That's My Brick!® have joined forces to raise money for our project! As we prepare to break ground and take the final steps to realizing this goal, you can help to make it happen with your donation and we will install your customized personalized brick.
This site automatically keeps track of our orders. If you choose to pay by check, please contact us as soon as possible to submit your donation.
We are facing the back of the baseball bleachers. There are 8 sections, four on the home side bleachers and four on the visitor side bleachers. We want our alumni and friends of baseball to become a permanent fixture at the Diamond at the Lake. Put your business on a brick or for former players have the years you played on them. Each section of bleachers will take 174 bricks to complete. Once we have enough bricks for one section, the bricks will be installed & we will move on to the next section. Because of the extensive use of the field throughout the year, hundreds of people will see your permanent mark on campus. Monies generated will help improve the baseball program. The $100.00 for the brick is a one-time donation; your brick will last forever. Help continue the rich tradition of Garrett Baseball. Brick by brick, we'll honor the past and brighten the future!
How to Order
Just follow the simple step by step process below to place your donation. Be sure you are happy with your brick design as they will pretty much look like the image on the computer.
Payment Options:
Pay online with a major credit card (VISA/MC/AMEX/DISC).
Pay by check or money order.
Follow the on-screen directions during checkout.
If you have any questions, please contact Eric Hallenbeck at 301-387-3331 or email eric.hallenbeck@garrettcollege.edu