Danvers Masonic Temple Association
Building Restoration Project
Building a Legacy One Brick at a Time
Danvers Masonic Temple Association and That's My Brick!® have joined forces to raise money for our project! As we prepare to break ground and take the final steps to realizing this goal, you can help to make it happen with your donation and we will install your customized personalized brick.  The Danvers Masonic Temple Association is working hard to fund the restoration of the Danvers Masonic Building, which has proudly stood on High St. since 1924. This building houses Masonic groups, who provide philanthropy to the town of Danvers and the North Shore. The building also provides a space for private and community events, as it has for close to 100 years.
When you sponsor a brick, you are creating a lasting legacy for yourself and your loved ones. Your brick will be within walking distance to the heart of Downtown Danvers, for all to see proudly. Your brick will be added around the existing flagpole, to create a beautiful pavilion for pictures and memories. Sponsor your piece of Danvers history today!
This site automatically keeps track of our orders. If you choose to pay by check, please contact us as soon as possible to submit your donation.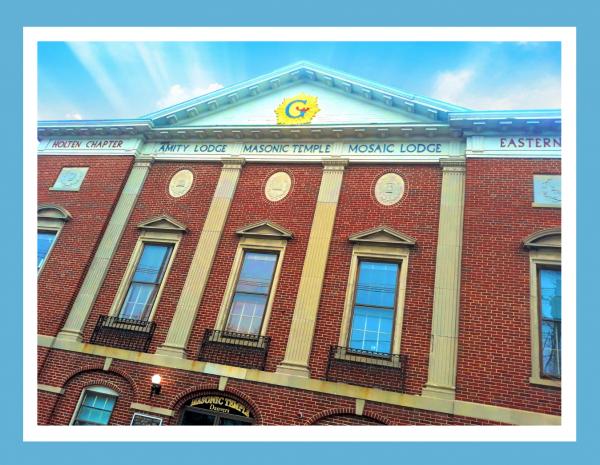 How to Order:
Just follow the simple step-by-step process below to place your order. Be sure you are happy with your brick design as it will look very similar to the image on your computer when completed.
Brick with Personalized Graphic
**Add a Custom or Business Logo to your Brick**
Get your image APPROVED by That's My Brick!® before placing your order.
Please email info@thatsmybrick.com with:
1) Signed and completed copy of the Letter of Agreement attachment below
2) Black & White, High Resolution file of your Custom/Business Logo
3) Please notate that it is for "dmta"
4) That's My Brick will notify you if the logo has been approved
with $15 custom graphic fee and it's availability to place your order 
*Approval Process can take up to 1 week
Click Here for Letter of Agreement
** The Letter of Agreement is for legal Trademark purposes and is required before a custom image will be approved **

Payment Options:
Pay online with a major credit card (VISA/MC/AMEX/DISC).
Pay by check or money order.
Follow the on-screen directions during checkout.
If you have any questions, please contact
Patrick Henry at (978) 518-7191; amitymosaicdanvers@gmail.com