Minister Franklin D. Florence
Civil Rights Heritage Park
Announces
a BUY A BRICK campaign.
Join in creating a
Legacy walk
by donating a Brick .
We'll help you design a brick
that will lift up an African American who has made a
difference in the Black Freedom Struggle

The Minister Franklin D. Florence Civil Rights Heritage Park will illuminate the lives and unmute voices of our African ancestors, Rochesterians and others who worked for
racial justice.

The park will present the story of the Black Freedom Struggle in an innovative urban space for learning, dialogue and reflection. It will be located in the 14605 zip code where much of the grassroots organizing took place in the Black community. It is also the location where the 1964 three-day uprising began, out of the frustration over horrific housing conditions, high unemployment, and structural barriers to progress. 
The Legacy Brick Walk will document and commemorate those Rochester Black activists and residents who have worked tirelessly for racial equity since the founding of this city.
This website automatically keeps track of our orders. If you choose to pay by check, please contact us as soon as possible to submit your donation.
How to Order:
Follow the simple step-by-step process below to place your order.
Some Guidelines for Naming your Brick
 As you select a name for your Brick for the Legacy Walkway, we invite you to determine how their community work in the Black Freedom Struggle specifically helped the advancement of civil rights.  This walkway is dedicated to Freedom Fighters, Truth tellers and Voices of Freedom. 
Brick choices will be approved upon receipt of payment. 
In the future, story and song events will be held at the park as we lift these folks up and share their work for justice on our behalf.   
If you wish, in a separate place, we will also list the name of the person you are remembering with your selection 
&&&&
Some possible names for Brick Legacy Walkway 
For help in making a selection, Contact Elizabeth @585-451-5822.
Brick Options:
Freedom Fighter 8x8 Brick - $500
Truth Teller 4x8 Brick - $300
Voice for Justice 4x8 Brick - $200
Be sure you are happy with your brick design as it will look very similar to the image on your computer when completed.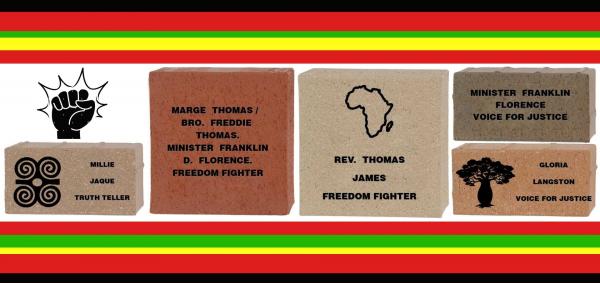 Payment Options:
Pay online with a major credit card (VISA/MC/AMEX/DISC).
Pay by check or money order.
Follow the on-screen directions during checkout.
If you have any questions,
please contact
Elizabeth Osta at 585-451-5822