Bixby Historical Society
Brick by Brick:
Laying a historical foundation, paving the way to a bright future
We are in Phase 2 of building on the Bixby Historical Society grounds. Phase 1 was completed this summer and we revitalized the Scale House. Phase 2 is Plummer's Station. 
Plummer's Station was built in 1921, and this year marks its 100th anniversary. The station provided a vital service facility and gateway to the Albert Pike Highway which gave access to the Arkansas River bridge, which was the first vehicle traffic and longest bridge west of the Mississippi at that time. Martha Plummer Roberts donated the land to the Bixby Historical Society in 1983 and the Station was to serve as a source of revenue for the Society. In 2015, a storm blew through the town ripping parts of the metal tile roof. Completion of a new metal tile roof in 2018, was the start of the first component for the restoration of Plummer's Station. In the spring of this year the Historical Society started the second restoration component which consists of re-tuck pointing the exterior brick, new windows, doors, and a new concrete slab under the portico.  The final component of this renovation will be the expansion of the building to the north and restoration of the interior. 
The Historical Society plans to lease the renovated building to a business that will attract patrons and tourists daily to the downtown River District while enjoying the History of our area and traveling exhibits on the Historical Society grounds. 
How to Order:
Just follow the simple step-by-step process below to place your order. Be sure you are happy with your brick design as it will look very similar to the image on your computer when completed.
Organization Brick with Personalized Graphic
**Add a Custom or Business Logo to your Brick**
Get your image APPROVED by That's My Brick!® before placing your order.
Please email info@thatsmybrick.com with:
1) Signed and completed copy of the Letter of Agreement attachment below
2) Black & White, High Resolution file of your Custom/Business Logo
3) Please notate that it is for "bixbyhs"
4) That's My Brick will notify you if the logo has been approved
and it's availability to place your order 
*Approval Process can take up to 1 week
Click Here for Letter of Agreement
** The Letter of Agreement is for legal Trademark purposes and is required before a custom image will be approved **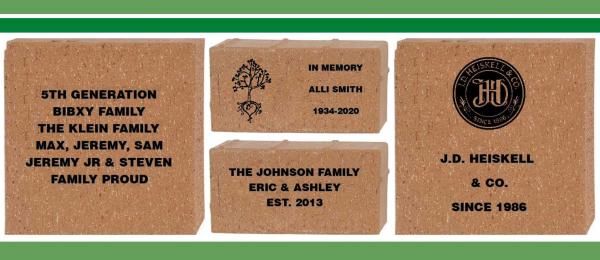 Payment Options:
Pay online with a major credit card (VISA/MC/AMEX/DISC).
Pay by check or money order.
Follow the on-screen directions during checkout.
If you have any questions, please contact
Amanda Earsom at 918-630-3792 or amandaearsom@gmail.com