Brian Eldredge
Memorial Skate Park
none \>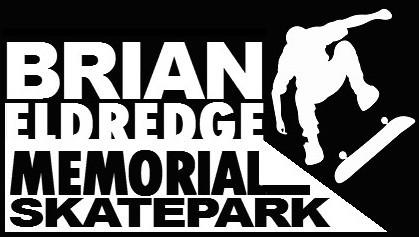 Brian Eldredge Memorial Skate Park and That's My Brick!® have joined forces to raise money for our project! 
Our skate park was dedicated to Brian Eldredge after he passed away in 2018.  We are raising funds to renovate the park which is located in Amesbury, Massachusetts.
Thank you for supporting the renovation efforts of the "Brian Eldredge Memorial Skate Park".
How to Order:
Just follow the simple step-by-step process below to place your order. Be sure you are happy with your brick design as it will look very similar to the image on your computer when completed.
Brick with Personalized Graphic
**Add a Custom or Business Logo to your Brick**
Get your image APPROVED by That's My Brick!® before placing your order.
Please email info@thatsmybrick.com with:
1) Signed and completed copy of the Letter of Agreement attachment below
2) Black & White, High Resolution file of your Custom/Business Logo
3) Please notate that it is for "bememorial"
4) That's My Brick will notify you if the logo has been approved, with $15 Custom Graphic Invoice and it's availability to place your order
*Approval Process can take up to 2 weeks
Click Here for Letter of Agreement

** The Letter of Agreement is for legal Trademark purposes and is required before a custom image will be approved **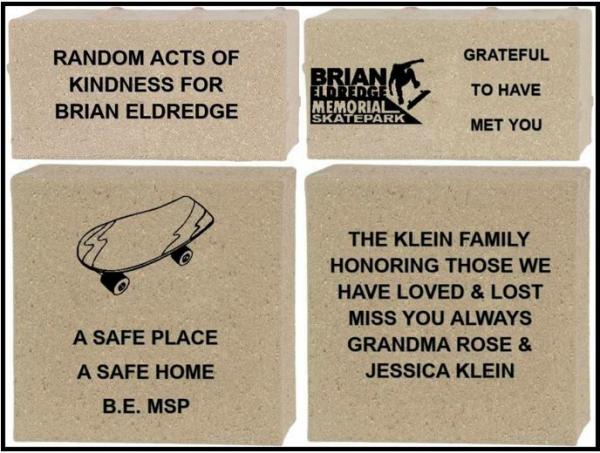 Payment Options:
Pay online with a major credit card (VISA/MC/AMEX/DISC).
Pay by check or money order.
Follow the on-screen directions during checkout.
If you have any questions, please contact:
Donna Eldredge at 978-821-4084 or donnaeldredge@me.com