BE A VISIBLE PART OF AMBOY HISTORY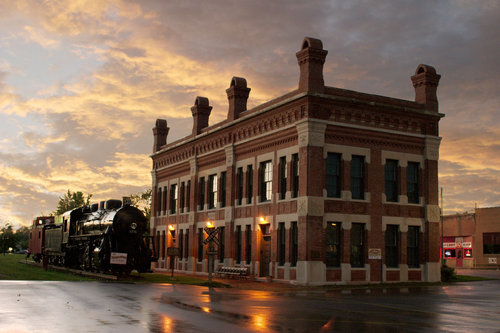 You, your family or your business can become a lasting part of Amboy's history by purchasing a personalized brick. The commemorative bricks will be placed on the east side of the locomotive, near the entrance to the depot museum.
Your donation for a 4x8" personalized brick is $50. An 8x8" personalized brick is $100. You can even get a replica of your brick that is perfect for displaying on your desk if you'd like. (Add $25 to your total for a 4x8 replica and $50 for an 8x8 replica; if direct delivery is requested include an additional $10)
Phase I of our brick project was completed with a dedication on July 1, 2012. It will continue to hold the Commemorative memorial bricks.
Phase II of our brick project will be complete in 2019. An additional brick pad will hold the memorial bricks of all Amboy High School Classes.
The location is on the east side of the brick walk-way near the Palmer School House.
How to Order
Just follow the simple step by step process below to place your donation. Be sure you are happy with your brick design as they will pretty much look like the image on the computer.
Payment Options:
Pay by check or money order.
Follow the on-screen directions during checkout.
If you have any questions, please contact us at
amboydepotmuseum@gmail.com or call during museum hours at (815) 857-4700